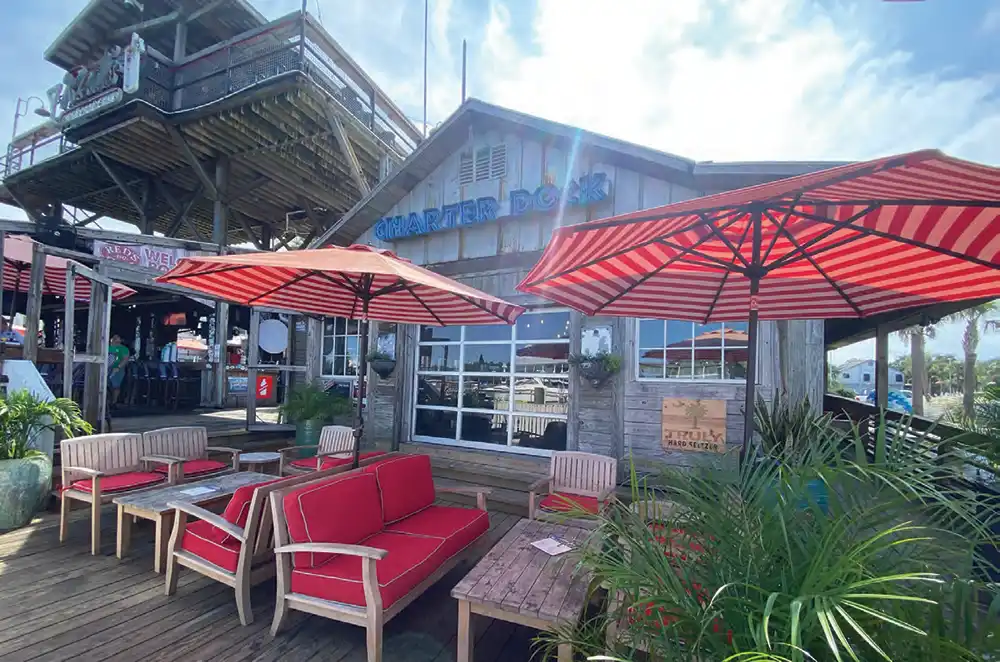 This year, Red's Ice House, the iconic Shem Creek eatery, is celebrating their 20th anniversary. For two decades, the crimson neon sign atop the historic balcony has served as a beacon, a siren call, attracting seafood lovers, day drinkers, dolphin watchers, families and anyone who wants to enjoy an oasis on the water. For owners Dianne and Cecil Crowley, this anniversary is the direct result of hard work, loyalty and love.
"I see this as a celebration of a lot of work by a lot of people," said Dianne. "Like anything else, Red's success is not due to one person's efforts but the fantastic team that has worked here the past 20 years."
In the lead-up to the final anniversary event, Crowley has a number of celebratory events and offerings spanning the entire summer. "Red's Summer of Fun" will officially kick off on Memorial Day weekend and culminate with a special free concert on August 26. While Crowley can't name the headliner just yet, she guarantees this wellknown artist will "blow everyone away." Utilizing the barge as an outdoor stage, Red's will host a weekly series of "flashback" concerts, inviting many of the local bands and artists who have played there over the last two decades prior to the finale event.
Food will also play an important part of the summer celebrations. Red's has always been a go-to destination on Shem Creek for seafood. They use as much local shrimp as possible for their famous fried and peel-and-eat shrimp, two menu mainstays. For the 20th anniversary, the menu will feature a special "Birthday Bash Platter." It will essentially be a seafood and snacks charcuterie board with a call-back to popular favorites from their many special menu offerings over the years. Crowley says she and her team enjoy creating limitedtime menus when possible to "spice up the norm." From Korean-inspired tacos to burgers served on a glazed donut bun to seasonal items like soft-shell crabs, there's always something new and fresh to try.
The Crowleys, who have owned Red's since 2003, are excited to celebrate their long history on the Creek. Prior to being a wildly popular bar and restaurant, Red's was an integral part of the local fishing community; it was the icehouse for the shrimp boats on Shem Creek. The back room is a galvanized steel cooler and ice would be dropped down from the balcony onto the boats. After Hugo, the landscape changed for the shrimping industry on Shem and at Red's. No longer a viable icehouse, it was sold and repurposed to the thriving restaurant it is today.
It's fair to say that Red's helped spearhead the revitalization of Shem Creek. It was always meant to be a place for boat captains to come and show off their catch, and they patronize the bar to this day for that very purpose. Red's welcomes all comers to their dock to eat, drink, fish and, of course, dolphin watch
As long-standing members of the local community, the Crowley's are happy to give back and support local charities when they can. The Lowcountry Food Bank is the primary nonprofit supported by Red's, and they help fundraise for BackPack Buddies, a program that provides nutritious meals for Lowcountry children in need. They also proudly help support veterans' organizations and youth sports.
"Red's is a community place," said Crowley. "I would be nowhere without my local and loyal customers, and we do what we can to support them and this community
Throughout the bar and restaurant, you can find local art, mementos and photos adorning the walls. There are several plaques honoring regulars who have passed as well as homages to the regular patrons who have frequented the bar since day one. The feel is uniquely Shem Creek — an atmosphere Crowley has worked hard to maintain. There are winks and nods around the bar to the fishing and shrimping culture that made the area what it is today.
"I've always wanted to create an atmosphere where you feel comfortable and have a good time. You can eat anywhere, but you want to come to some place where you feel like you're part of the family. That is our goal."
By Sherry Whiting